Driving efficiency and reducing duplication in client engagement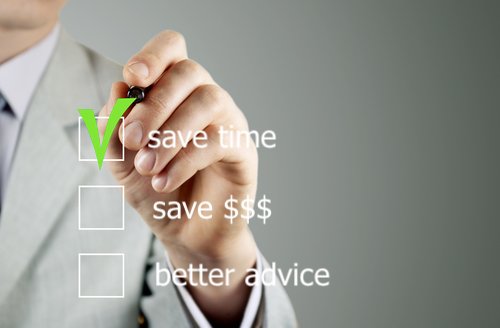 Client engagement
Client: Advise Wise Pty Ltd
Driving efficiency and reducing duplication in client engagement
About Advise Wise Pty Ltd
At Advise Wise we seek to make real, enduring, and meaningful changes in our clients' personal and financial lives. We build and foster a bright and committed team with a shared ethos in supporting and empowering people to fulfil their aspirations.
Synopsis
By implementing a series of data automation and integration activities, Advise Wise were able to significantly improve data quality and increase data automation across all their business systems. This has allowed Advise Wise to set a baseline technology infrastructure to allow the business to increase efficiency and profitability, and provide a platform for effecting and maintaining best practice in technology in the practice moving forward.
Overview
Advise Wise is a boutique self-licenced financial planning practice in Sydney that has continued to grow consistently since foundation in 2015. With ambitious growth objectives to execute, the firm quickly realised that data quality and system integration problems had the potential to hamper the viability of this growth. They contacted Planfocus for help in solving some of these problems.
The requirements
Review all aspects of the advice process to identify areas of double handling and duplication
Re-engineer processes where possible
Implement system improvements where business case is presented
Planfocus was engaged to provide business analysis and integration services to increase the firm's confidence in the robustness of their advice systems and reduce the risks of error and duplication in their advice production.
Tasks to be automated
Client communications
Client booking
Fact finding
Risk Profiling
Keying of fact find and risk profiling
The Solution
Planfocus worked with Advise Wise with a focus on client engagement, and data integration.
Timeframe 12 months
System
Function
Integration With
How
XPLAN
Advice production
Roar Software
API
Fin365
CSV
Fin365
CRM and practice management
XPLAN
CSV
Active Campaign
API (Microsoft Flow)
Mercury Software
Zapier / API
Roar Software
Data collection and online risk profiling
XPLAN
API
Calendly
Online booking
Active Campaign
Native
Active Campaign
Online marketing solution
Calendly
Native
Fin365
API - Microsoft Flow
Mercury Software
Mortgage and lending software
Fin365
Zapier / API
Zapier
Integration software
Mercury Software
Native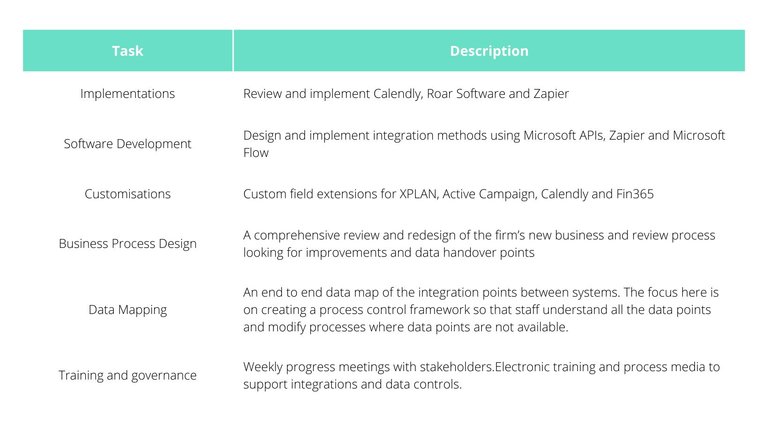 Outcome
Advise Wise were successfully able to reduce data duplication and double handling significantly as a result of the integration and implementations.
Some of the benefits seen so far:
Advise Wise were able to replace traditional data collection paperwork with digital copies which has reduced office clutter. At this point they believe they have reduced key entry by at least 80% on pre-automation tasks.
Faster turnaround – While there are still efficiencies to be gained, Advise Wise has been able to speed up client onboarding and CRM updates while reducing errors and frustrations and is already seeing a reduction in advice turnaround times and volumes.
Advise Wise expects to increase productive capacity of advice staff by 20% year on year as a result of these changes.
Key learnings
Focus on progress, not perfection
While team members touch data up to 80% less than they ever have done in the past, more automation and data integration is needed. Data integrations are never 100% perfect. The data mapping between systems highlights areas of each system that do not perfectly match up with each other.
This finding was not specific to any one system but relevant to all. Businesses need to be vigilant in monitoring the improvements made to vendor APIs. To control this, Advise wise is creating a series of screen recordings to show team members which data points need to be monitored closely when they are in certain parts of the process.
Integration systems need to be managed
Running any digital process requires ongoing care and maintenance. Because many of the systems in your ecosystem can be customised, changes made to any one system can disturb or break the integration with other systems. Be careful when customising integrated systems and keep your IT team informed of your intended changes.
So, what's next for Advise Wise?
Advise Wise continue to harden their business processes as they become more proficient running their new systems.